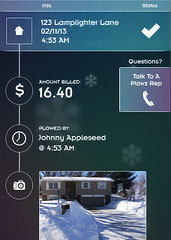 You: "Is there still snow outside?"
Us: "Hang on, we'll check."
...
Us: "Yes."
Looks like you'll be needing
Plowz & Mowz
, a new app that gives you the power to summon snowplows as if they were Ubers, now available for iPhone and Android.
And now, a step-by-step guide to ensure ease of use:
1. Make peace with the letter Z.
2. Download it. It's where you download it.
3. Have a driveway you could plausibly shovel yourself but don't want to.
4. Select "Schedule a Plow" to request one of their 225 plows operating in the Boston area.
5. Take a breather. Maybe answer that one email you keep avoiding, or Google "who invented foosball."
6. Once the job is done, the card associated with the app will automatically be charged and your plowsmith will send you a picture of your newly de-snowed domain.
7. Live the next four or so months of your life with great purpose.
8. When it's finally warm again and grass is growing, use the very same app to request someone to mow your lawn.
And you thought they just liked the word "mowz."