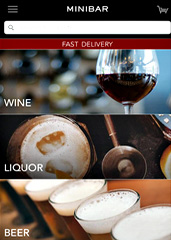 It seems like only last week you were home, watching a freak monsoon blow through our tropical environs, wishing that someone... anyone... would drop a care package of bourbon and some adult cherries at your doorstep.
Well. Wishes really do come true.
Because this week you've got
Minibar
—an app that facilitates the delivery of liquor, mixers and bar supplies to your doorstep in under an hour, and it has just launched in Miami.
You'll probably want to download the app now, because really, it's never too early to think about your next Manhattan. It'll ask for the usual suspects: name, address and credit card information. Then, it'll match you up with your local liquor store's inventory and let you place an order. Bottles of bourbon, liquor-soaked cherries, shakers and strainers—it's all there for the taking. Well... you have to pay for it first. Whatever. You get it.
What's great about this thing, aside from not having to carry a jeroboam of champagne to your car, is that a) there's no delivery fee. Just tip at your discretion. And b) yes, your liquor-filled bounty will arrive in under an hour.
Bourbon works better under pressure.