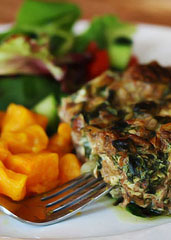 Three weeks into 2015 already. We trust you're living perfectly healthy by now and have ingrained nothing but great habits.
You've registered for six triathlons, and you're running to work every day.
Okay maybe not. But in any case, you might find this helpful...
This is
Power Supply
, a local outfit that plugs you into a network of chefs who whip up überhealthy meals. They used to drop off mainly at area gyms, but now they're delivering to your home or office.
If you've ever wanted to eat from the spread in the Wizards' training room... well, you can't do that. But this might be the next best thing—a group of chefs, already behind places like Teaism, People's Bao and DC Empanadas, dreaming up gluten- and dairy-free meals, typically packed with veggies and protein.
Translation:
lamb meatballs with kale
, Mexican beef stew and Ethiopian lentils. And you can specify vegetarian, Paleo or "mixitarian" (basically Paleo but with more grains), depending on whether you're more the yoga retreat type or the Tough Mudder type.
Once they hit your doorstep (you can get three- or five-day plans), you just heat them up per the instructions and poof... you're RG3.
Maybe that's a bad example.