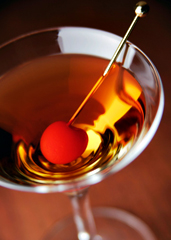 Knock, knock.
It's a fifth of bourbon and a jar of maraschino cherries.
There's no joke, there's just
Minibar
—it's a new app delivering alcohol and any necessary accoutrements for a good drink in under an hour, launching in LA tomorrow on iPhone and Android.
In a perfect world, you'd never run out of booze. But alas, nothing is perfect. Finding yourself with unexpected after-dark company who's dying to slip into a dry martini, and you being shy a little vermouth... it's a thing that could happen. Potentially.
Or not. First, download this. Then, when something like the above scenario transpires, just open the app, browse by the type of hooch you're looking for, and that's that. Throw in whatever mixers and maraschino cherries you might need, and the closest store will bring everything over in 30 to 60 minutes, without charging you for delivery. Okay, "need" is maybe a strong word. Then again, maybe it isn't.
Also: if you feel like sending an anonymous bottle of good single malt to your friend's place, just because you appreciate your friends... yup, Minibar can make that happen.
Maybe drop by later to see if it arrived in one piece.