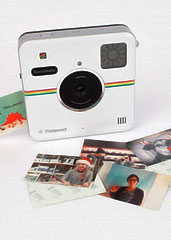 Ah, the Polaroid.
The big white border, the lo-fi quality, the... lack of Android OS, touchscreen or instant sharing on social media.
Let's fix that.
Here's the
Polaroid Socialmatic
, a kind of Polaroid/smartphone hybrid that sports a 14-megapixel camera, now available online.
Think of a camera phone. Then take away the phone. And add a miniature printer. That's this thing.
Unlike the Polaroids of yore, it doesn't insist on printing every blurry, squinty-eyed photo you snap. Instead, just scroll through your camera roll, crop here, add a filter there. Then print the ones you like.
It'll spit out a two-by-three-inch photo on the spot. Which you'll then hand to your friend and say something like, "Remember when you made that face two minutes ago? Well, here's a printed photo of that."
If that still rings a little too analog for you, it runs Android, so you can geotag your photos, share them on social media and go online to find the next interesting thing to do. (College football: no longer an option.)
It's even got a secondary, two-megapixel camera pointed right at you.
You know, if you must.