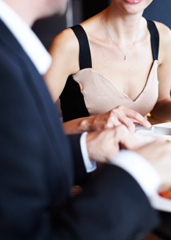 You know that thing when you're seeing a great band play at El Rey, you make eye contact with a stranger across the crowd, and there's just this... connection.
This is kind of like that.
But it's a website.
And not really like that.
It's
Curiously
, a new dating site that will suggest potential matches based on a person's Spotify situation, officially launching today.
First, a bit of welcome news: this thing doesn't make your Spotify history public or anything. Any private Loggins sessions will remain private. It simply uses your Spotify listening habits to make matches with other people on the site through... some sophisticated music-algorithm thing.
So if you've got this friend... whose date once thought a Dylan reference was about a Real Housewife... this friend should consider logging on. Making a profile. Finding some matches. Marveling at said matches' mutual affinity for acoustic Eskimo techno-pop.
The photos might still be pretty useful, too.