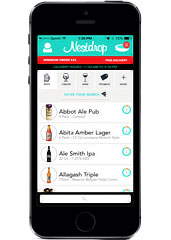 You know that app you use to get pizza delivered?
Well, this is just like that.
Only for weed.
Yes, you now live in a world where
Nestdrop
exists—it's the country's first smartphone-based, in-app, on-demand medical marijuana delivery service that brings the green stuff to your doorstep, and it's available now on Android (and soon for iPhone).
First things first: Nestdrop is not a dispensary. Think of them more like the middleman that works with clinics to get you your package quickly and professionally. Like Caviar, except for... well, you know.
Anyway, here's how it works: you'll upload a photo of yourself, along with your prescription and medical marijuana ID card. Yeah, you still need one of those.
Then, you'll select bud, edible or concentrate. Within an hour or so, your order will be picked up at the nearest dispensary (thanks, GPS) and brought to your door. After your delivery person verifies your card and ID, they'll hand over the goods. Payment is done through the app, too. We don't have to tell you how the rest of it works...
And soon, they say you'll be able to order alcohol, too.
Pizza still needs a different app.