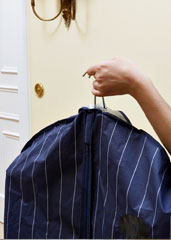 Self-washing clothes don't exist yet.
But great news:
Washio
and
Nim Nim
do. They're two new services that dispatch trained laundry operatives to come to your door and take care of your garments so you don't have to. Both are available now for iPhone and Android.
And because it only makes sense, we made them fight, tale-of-the-tape-style:
The Services
Washio:
Download the thing. Then select your pickup and drop-off times. They'll dispatch a "ninja" at any hour of the day to pick up your laundry, whether you're at home or not. Within 24 hours, they'll return it, fresh and folded.
Nim Nim:
You can schedule a pickup anytime you want (yep, also open 24 hours), in person or in absentia. They'll do the job and return the goods within a day.
Edge:
Washio. Close, but only one employs ninjas.
The Options
Washio:
Laundry and dry cleaning.
Nim Nim:
Laundry, dry cleaning and deep shoe cleaning.
Edge:
Nim Nim. Assuming you wear shoes.
The Bonuses
Washio:
They'll pick up your unwanted clothes and donate them to charity.
Nim Nim:
Give them garments in need of alteration, and they'll take them to a vetted tailor.
Edge:
Washio. Happy unwanted-holiday-sweater season.