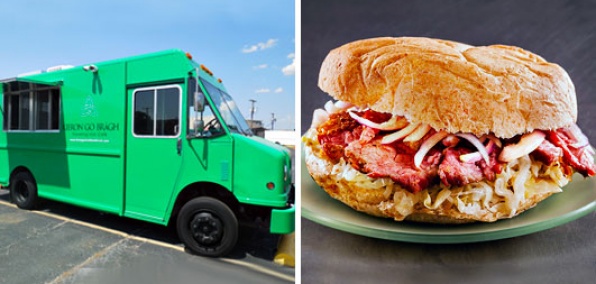 Nothing against taco trucks and mobile burger operations.
Seriously, nothing. They're great.
End of story.
Wait, no. There's more.
Try the new guy. It's
Kieron Go Brágh
, the city's first (and only) Irish food truck, now parking at curbs around town.
Corned beef sandwiches and shepherd's pie sliders. Those are two examples of delicious Irish things. And those are two delicious Irish things you'll find inside this truck. (
See the partial menu here
.)
But first, you've got to find it. For that, consult the Internet. Specifically, consult the portion of the Internet housing the truck's calendar. Then go where it tells you to go. Tomorrow: that means the Meadows Building just off Greenville, and Thursday it means Deep Ellum Brewing Company.
Next, simply ask for something to eat like
The Molly Malone
, a grilled cheese on brown Irish soda bread. And if you thought, "Hey, some Guinness beef stew would be a good idea," then you're in luck (also, maybe a prophet). Because they'll start serving that once the weather turns colder.
Until then, you'll just have to drink your Guinness.