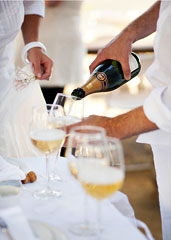 Let's review your usual picnic checklist:
—Wine: sure.
—Charcuterie: great.
—Post–Labor Day white linen pants: way to buck the system.
—Three or four companions: yeah, about that...
Welcome to
The PopUp Dinner Miami
, a formal picnic party involving a few thousand of your closest friends dining at a secret location, selling tickets now.
This is coming to you from the same people who produced Dîner en Blanc in San Francisco. So if you're familiar, great. If not, here's a primer.
The location's a secret.
And it won't be revealed until November 8. But you can count on it being: a) in Miami, b) outside, and c) able to fit a few thousand people.
Your attire: all white.
No exceptions.
Dinner is what you make of it.
The PopUp folks will provide the tables and chairs. You provide... everything else. Yes, you'll be setting up your own table decor along with your picnic spread. Pâté, paella, donuts—it's all fair game.
Sharing is caring.
At some point, a DJ will take the stage. That'll be your cue to stroll the grounds and partake in the culinary bounty of your neighboring tables.
He with the most ribeye wins.