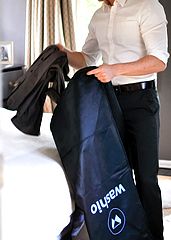 You tolerate a lot of injustices:
The line at the fancy hot dog joint is 12 hours long.
Your iPhone got bent.
Your dry cleaner never gives you a nice cookie when they pick up your laundry.
Well, one of those ends right now...
With
Washio
, a new door-to-door laundry and dry cleaning service that you control through your phone or computer. It launched today for iPhone and Android, and it's bringing you a cookie.
Maybe you've heard about this thing, which is already available in places like DC and LA. And Ashton Kutcher is one of the investors. So... thanks, Kutch.
You'll download the app and schedule when and where you want your laundry picked up and dropped off (they're covering neighborhoods like the Loop, Lincoln Park, Wicker Park, Logan Square, Wrigleyville, Gold Coast and River North).
Then, one of their "ninjas" (yes, that's really what they call their drivers) will swoop in with a warm cookie from the Lovely bakery in exchange for all your needy personal effects. Twenty-four hours later, they're returned laundered, starched and folded to your exacting specifications.
Which is pretty nice for a ninja.