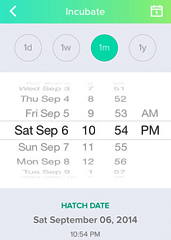 No one knows what the world's going to be like in 2039.
But if we had to guess...
"People communicating with each other": probably will still be a thing.
Stay current with
Incubate
, a new Atlanta-based app that lets you send messages up to 25 years into the future, available now for iPhone.
This is basically a time capsule that lives in your phone instead of the ground. And instead of the contents being a Chipper Jones rookie card and a solved Rubik's Cube, they're things you want to share with your friends. Only, you know, not immediately.
Just download the app, pick the medium (text, audio, picture or video) and then start sending stuff to anyone/everyone in your address book. Enter the date they'll receive it and you're done.
It could be short-term, like a "Happy Birthday" video they'll get exactly at 12:01am. Or it could be much-longer-term, like a picture of a turkey sandwich that someone will get, say, a quarter of a century from now. Assuming humans still use apps in 25 years, it'll be delivered.
And assuming we haven't all been replaced by robots.