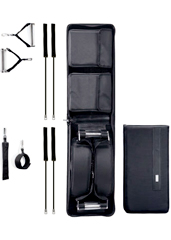 If you want terrible advice on how to work out anywhere:
Carry a Shake Weight at all times, and don't be afraid to use it in public.
If you want better advice on how to work out anywhere:
Carry a
Wellness Bag
, a bag-sized object that's basically an entire gym you can unpack in hotel rooms, strangers' apartments and other places that are not gyms, now available online.
Maybe you're at a lakeside cabin retreat. Or you wake up at home, it's winter and the gym is a seasonally unacceptable five-minute walk away. Either way, you have two choices: do a thousand push-ups on the spot or let the Italians who supplied the London Olympics send something to help.
Specifically: it's a black bag that's just over a foot long and under four pounds. And when you open it up, ankle bands, handles, foot straps and sets of resistance bands in two lengths will fall out. Along with an exercise manual. That'll be useful.
Then, wherever you are, go for it. Lunge. Squat. Press. Make some grunting noises if you need to. And when you finish, just pack everything back inside the bag and zip it up.
Maybe do some bicep curls with it...