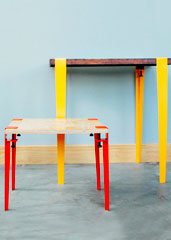 What has four steel legs and comes from Detroit?
Hint: it's not some sort of made-in-the-USA robot dog.
Or a car that can walk for some reason.
Guess that leaves us with
The Floyd Leg
, a sturdy set of clamp-on legs that can turn pretty much anything you desire into a table, now available online.
This one's not hard to figure out. You've got four pieces of fine, Motor City–made steel that come in either a 16-inch coffee table or a 29-inch non-coffee-table height. But they don't come attached to anything. These are the free agents of the table-legs world.
Clamp the foursome onto a nearly flat surface, and you've got an instant table on your hands.
A few things you could table-ify:
A door.
Sure, it looks great being your door and all. But you always knew it would look better as an improvised home bar.
An antique bank vault.
Makes for a great office desk, but may arouse suspicions if you're a self-employed safecracker.
Skimboard.
You're never actually going to use that, right...
Existing tables.
If you're just really serious about stability.