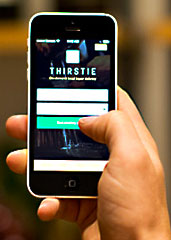 Quick, fill in the blank:
It's not delivery, it's _____.
Wait. Yes, it is.
It's...
Thirstie
. And it's an app that'll deliver booze straight to your door in under an hour. It's available now for iPhone and Android.
And here's a somewhat useful FAQ on the whole thing.
What's happening here again?
Liquor delivery. Within the hour.
What wizardry is responsible for this feat?
Well, there's an app. You should download it.
Done. What's next?
Enter the address you want your booze delivered to. The app scans the wares at liquor stores nearby that are still open. Then, you pick your poison, pay for it (and a nominal delivery fee) and wait.
Great. Can I have that Dan Aykroyd vodka delivered at 3am?
If your neighborhood liquor purveyor is still open, sure.
What's Dan Aykroyd been up to lately?
Not enough.
How might I fully harness the power of this app?
Parties, date nights... You seem like the resourceful type.
Okay, but I forgot my boss's birthday. Can I have scotch delivered to them?
Yep. Before you check out, let the app know it's a gift in the "Special Instructions" box. Then, include a nice note.
Is the note mandatory?
No, but... neither is your bonus.