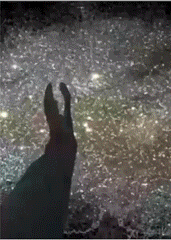 Some smartphone apps are practical, educational or just generally useful in everyday life.
Great news: this isn't one of them.
Tap here to activate
to.be Camera
, a questionably titled app that turns otherwise normal smartphone videos into absolutely bonkers smartphone videos, available now for iPhone.
If you've ever whipped out your phone's camera and thought, "I wish I could record videos of myself inside of a spinning rainbow pinwheel right now instead of this DMV," 1) this is for you, and 2) weird wish.
How it works: you're sitting at home shelling pistachios. Or maybe you're outside waiting for a patriotic fireworks display. Either way, just load up the app and find yourself on the receiving end of its video camera. You'll see whatever is around you. Until you tap the screen and everything goes haywire.
Suddenly, there's a pulsating Technicolor wormhole behind your face. Or maybe you've swapped the sky with a giant hypnotic swirl. Or placed an enormous undersea turtle behind your friends. Congratulations: you've just made an alternative universe for zero reasons.
Except maybe to turn it into a GIF or video that you can send to your friends.
Actually, that seems kind of important.