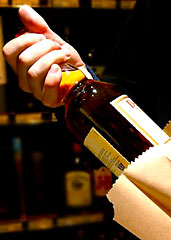 We're lovers. You know that. But every now and again, something comes across our desks that just seems... suspicious. Because of the tremendous material upside to all our lives if these claims pan out, we at times put ourselves in harm's way to investigate. Albeit skeptically.
We call it: Skeptical Investigation. (Trademark pending.)
THE CLAIM
New-to-DC web service
Ultra
does the cashless, online-app delivery thing with beer, wine and liquor. They say you'll get most orders within 60 minutes. We say: sounds promising.
THE INVESTIGATION
At 12:29pm yesterday, after creating an account and perusing the eight pages' worth of beer choices, our trusty investigator summoned a sixer each of Port City Optimal Wit and Founders IPA to Cleveland Park. Precisely 68 minutes later, it was at his door. A tad tardy. But cold.
Then, around happy hour (and rush hour), our investigator scanned the 270 wines and 400 spirits and liqueurs, settled on a bottle of Aperol and vermouth and tried again, this time to Georgetown. After just 39 minutes (in the rain, no less): Negroni time. Not bad.
THE VERDICT
In addition to the delivery charge, you'll pay a good bit more than usual for your tipple of choice. So this is best for emergency situations. But they do exactly as they say—provided you live in the delivery areas (most of Northwest, plus Capitol Hill and the Southwest waterfront) and provided it's during their delivery window of 10am to 9pm.
If you have something to celebrate at 1am, well, you'll just have to make do with mouthwash.