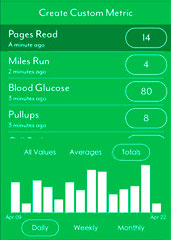 You accomplished quite a bit over the long weekend.
There was cannonballing. There was champagne sabering. And let's just say you went from zero to sunblocked in 2.3 seconds—a new personal best.
If only you could keep track of all these important accomplishments...
Here to keep you informed about you is
Loggr
, an iPhone app that tracks pretty much anything you want—it's now available.
Okay, so you already have an app to track how many miles you run. And one to track number of hours slept. Oh, and the other app that tracks food trucks (which is why you need that first app). But who has time to enter all that data into each app when you wake up from your nap to run to the food truck...
Enter Loggr. Once you download the app, you can immediately start tracking all those things in one place. Also, lots of other things, because you can create whatever categories you want. Tabulate your average number of cortaditos in a month and export it into Excel. Or let that bright-orange interface generate a helpful bar graph to track your weekly pull-up progress.
All the important stuff, really.