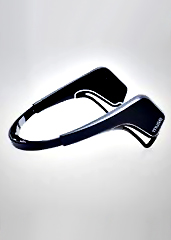 You need to calm down.
... Nope, still not calm enough. Try again.
Dammit, now you're even less calm for not knowing what you need to calm down about.
Better call in the scientists for this one.
Open your mind to
Muse
, a brain-sensing headband that tells you how stressed out you are and then totally redeems itself by training you how to remain calm, available now.
What you've already deduced about this: 1) It's a headband. 2) It's got built-in sensors that measure your brain waves. 3) It syncs with your smartphone via Bluetooth because, you know, obviously. What you don't know: it's actually not as weird as it sounds.
For instance, let's say the government just canceled Memorial Day. You'd slip this headband on, and the corresponding app would say something like "You're stressed." To which you'd reply, "Astounding observation."
But then the app would take you through some breathing exercises and other scientifically-proven-to-help-you-calm-down things, and you'd see your stress levels decrease in real time.
And by doing those exercises for three minutes per day, you'll (allegedly) improve your mental focus and sleep patterns, and just generally live a more stress-free existence.
Well, unless anyone sees you wearing this thing.