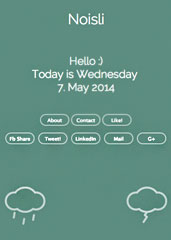 They said it didn't exist.
That it couldn't be found.
But we found it.
The Internet's... break room.
Behold the Technicolor grandeur that is
Noisli
, a new website on a mission to soothe you through ambient sound and constantly changing colors, online now and launching as an iPhone app tomorrow.
Visit the page. It might be a consoling hue of mint green. Perhaps a reassuring shade of sky blue. Either way, the colors are constantly changing, and all of them will make you feel great. They call it chromotherapy. And although we're no licensed chromotherapists, we can, in fact, confirm that this somehow exists.
You'll also see little icons, like a flame or a coffee cup. Play with those to set background noises and adjust volume. Relax to the sounds of an open fire or a bustling café. Or turn them on at the same time to hear a café on fire, which may be less relaxing.
And you can hit the bars on the right to launch a distraction-free text editor. It's just a nice, blank page of shifting colors that help you focus on getting some work done and nothing else.
So pretty much the opposite of the Internet.