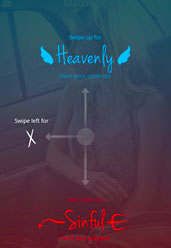 Gabriel García Márquez was a great man. He said a lot of great things. Like:
"All human beings have three lives: public, private and secret."
He probably wasn't talking about this app. But you never know...
It's
Heavenly Sinful
, a new app that helps you neatly divide the dating pool into commitment-worthy, one-night-stand-worthy and other, available now for iPhone.
Think of this as a more specialized Tinder. Just like Tinder, you go through interested parties and swipe to indicate your level of interest. Unlike Tinder, you start by indicating your own interest, also through a convenient swiping system. (Swiping: it just works.)
Anyway: swipe up ("Heavenly") if you're looking for a serious relationship; swipe down ("Sinful") if you're looking for an I-have-a-room-at-the-Liberty-Hotel-tonight type of relationship. Next, there's a map of sinful and heavenly types nearby. You'll swipe north or south to peruse partners with similar end goals, and left for a Tinder-style "pass."
Once a mutual match is forged, you can start a conversation without the awkward "Would you like to get Italian or just come over to my place right now" phase. And you can also send voice or video messages to propel your charm offensive.
No way those might be awkward.