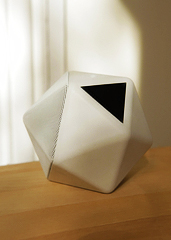 You've got big plans for the summer. Beach weekends. Mountain cabin weekends. Golf weekends. Probably an RV rental or two (we're guessing).
An agenda like that needs a soundtrack.
Which reminds us: here's the unfortunately named
Boom Boom
, a cool little portable speaker that streams quality audio from your smartphone anytime, anywhere. It starts shipping today.
Consider this your average, everyday walkin' around speaker—the 2014 version of the 1980s boom box. Only more subtle. As subtle as something called Boom Boom can be, anyway.
Plug it directly into your phone. Or just use that cord as a carrying strap and connect via Bluetooth. It'll talk to you and tell you it's ready to play. Then get to it. The battery gives you 15 hours of audio, and it's made of silicon so it's hard to break. Also: if you need to make a Skype call from your kayak, you'll actually be able to hear your colleagues.
But that's a mixed blessing. Really, it's for music. For broadcasting your playlist anywhere you deem it socially appropriate. The car wash. On a boat. Coming up the 18th fairway.
Because everyone appreciates that.