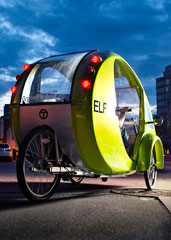 Remember when you were a kid and rode that plastic tricycle around the block.
Good times.
But now you're all grown up.
So it's time you got a grown-up tricycle.
Check your mirrors for
Elf
, a solar-powered three-wheeler from the future you'll use for getting around town and being all environmentally friendly about it, available now.
Say you're in the market for a new bike, but you're also in the market for carrying cargo and traveling up to 30 miles per hour without getting bugs in your teeth. Then our advice: don't get a bike. Get this newfangled contraption instead.
See, this thing merges a traditional tricycle with a miniaturized car. It's got three wheels and pedals. But it's also got an electric motor, a sturdy composite shell and a windshield to protect you from the elements. Which means if you want to get some exercise, go ahead and pedal to work.
But when you reach a hill (or some kid on rollerblades challenges you to race), just move the throttle into electric assist for a boost from the 600-watt motor.
And somehow—science, we guess—all that adds up to the equivalent of you getting 1,800 miles per gallon.
Which is probably a smidge more than you're getting now.