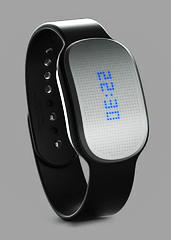 There are plenty of reasons to seek out a donut.
For starters, you really like donuts. But pretty soon, you'll have another reason: the thingy on your wrist told you that you could.
Say hi to
GoBe
, a next-level type of fitness-and-health tracker that spits out a constant stream of data to your phone, available for preorder now on Indiegogo for June delivery.
If we humans ever get jacked into the Matrix, we can say it all started here: a small device you strap to your wrist that records all kinds of critical physiological stuff—calories in and out, heart rate, hydration, sleep, stress. Basically it's like having a trainer and a nutritionist following you around. (But far less annoying. And none of that spray-tan smell.)
You could just put this on at the gym, let it check your pulse and tell you when you need water. But keep it on all day and it'll tell you how much more water you should drink by day's end and your calories burned versus consumed (which might make that second donut a real possibility).
And, oh yeah, it's also waterproof, so feel free to take it into the shower or the pool.
But not the hot tub. That's weird.