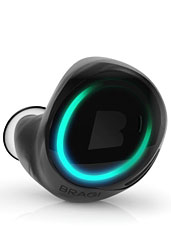 The medical community says that you should never put anything smaller than your elbow into your ear.
But, really, when have we ever listened to those guys.
Internalize
The Dash
, a wireless pair of headphones that's basically like the culmination of every gadget invented over the last decade... only stuck inside your ear, available for preorder now via Kickstarter.
If Apple made headphones for the Secret Service, this is probably what they'd come up with. A cord-free pair of dime-sized buds that fit comfortably into your ear canal and do things like: stream music from your smartphone; monitor your heart rate; and let you make voice calls by conducting sound straight from your ear bones (easily the most underrated part of the skeletal system).
So reserve a pair—they'll ship by November. Then, when they arrive, use the tiny touchpad on the right earbud for volume control, and on the left earbud to handle fitness tracking. And since they're waterproof up to a meter deep, you can theoretically conduct conference calls with them from the shower. Or the bottom of a hot tub.
Breathing may still pose a challenge, though.