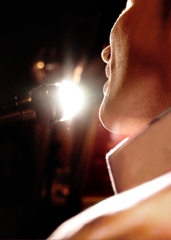 There's nothing like that moment when a legendary duo takes the stage.
Johnny Cash and June Carter.
George Balanchine and Suzanne Farrell.
You and a redheaded stripper named April...
Yes, you now live in a world where your karaoke showstoppers come with a backup dancer in the form of a writhing stripper—all thanks to the wonder of
Stripperaoke
, now happening Sunday nights at Dragonfly in Hollywood.
The cold, hard truth is that your impassioned take on "Pour Some Sugar on Me" has never quite moved the crowd the way it could. There's only one earthly explanation: the glaring lack of a stripper on stage beside you, ditching her top at just the right moment. Right, that old glitch.
To remedy this forever, grab a ticket online for an upcoming Sunday (or catch the early
Point Break Live
show here first and you'll avoid the cover). Hand over a dollar and commit to a song. Ponder what's about to happen. Then let it happen.
You'll sing. You'll emote. Your backup stripper will harmoniously grind all over the stage and maybe all over you. And if an alluring redhead like the headlining April O'Neil doesn't fit your artistic vision, pay an extra five bucks to employ one of her friends instead.
"The Greatest Love of All" will never be the same.