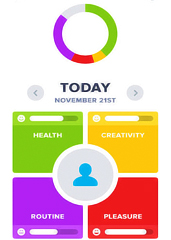 Your life is a lot like this union of ours. The state of things is strong. And yet, it could be even stronger.
And where the president has Congress and the press to give him a little course correction now and then, you've got, well, your phone.
Loaded, as it soon may be, with
OptimizeMe
, available now for iPhone to track everything you do, and tell you how you could do it better.
So basically this thing data-mines you. No, not like the NSA. Here, there's a little more opt-in. For instance, you can tell it to track where you went, whom you crossed paths with, how much sleep you got. You can tell it how good a mood you're in. It'll keep tabs on your running, biking or even the steps you take. Just about anything.
Then watch it do some macroanalysis, spit back some data at you, as well as a few nifty connections and correlations. Charts and graphs. Like how much potential gym time you spent hunting for cheeseburgers.
Or how well watching political speeches for an hour, then arguing about them for two hours, correlates with a good mood.
Not well. Not well at all.