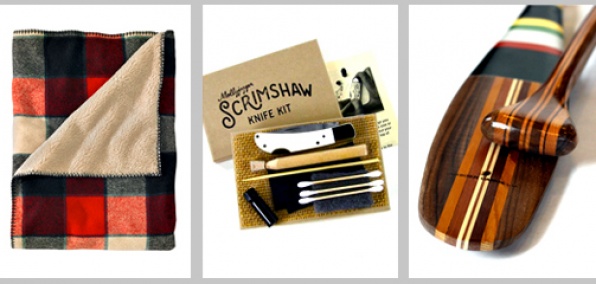 Pretty tough outside these days.

But you know how the saying goes: when the going gets tough...

... the Internet comes to your rescue.

Finish winter strong with Mollyjogger, an Arkansas-based supplier of good-looking essentials for the great outdoors (and the equally impressive indoors), online now.

Browsing this site is sort of like cleaning out the greatest attic of all time. Rugged Americana. Unexpected bric-a-brac. Beard oil. Basically stuff that'll come in handy all the time. But here, we'll elaborate...

For right now: you want one of their striped, vintage-inspired Woolrich blankets. It's easily the warmest thing they stock. Unless you can fit inside a Stanley thermos.

For two Sundays from now: you'll need their scrimshaw knife kit. It comes with the same kind of bone-handled blade that whalers used in the 1700s. So it's good enough for your Super Bowl brie.

For three months from now: grab one of the handcrafted oars made of cedar and walnut. Helpful if you have a spring canoe trip. Or a lake house with an empty wall.

For 160 days, three hours and 12 minutes from now: that'll be July 4. So pick up a vintage American flag patch from the '60s.

But only because they don't carry beer and fireworks.