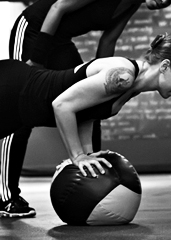 There's a certain part of you that wants to be very dedicated to your fitness-related resolutions.
And if we had to venture a guess, we'd say it's the physical part.
The part that bears the brunt of your nightcapping, tasting-menu-connoisseuring, stairs-skipping ways.
The part that will appreciate
Find Your Trainer
, a site that's about to help you figure out just exactly how Bitcoin works. Just kidding. It's about to help you find a personal trainer, and it's online right now.
This thing's the OpenTable of personal training. No gym memberships. No nonsense. Just you and someone to put you through combat training. (Seriously, that's an option.)
So here's how you play it: you sign up for the site and enter your zip code. From there, specify which nearby gyms are most convenient, your preferred gender of trainer and your focus (hatha yoga, massage, kettlebells—go nuts). Then you'll be given a list of trainers who do those things, their profiles (with photos) and their availability. Then, schedule away and attain the body of a Greek god.
Well, the body of a sore-quad-muscled Greek god.