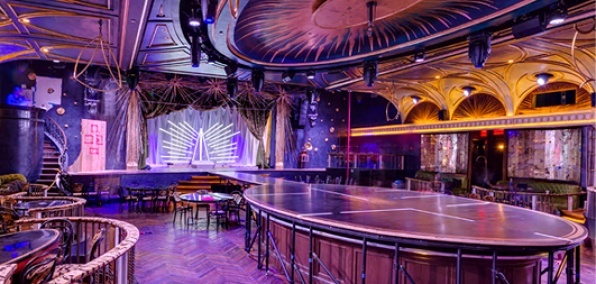 Some folks from
Sleep No More
and The Box are up to some no good called
Queen of the Night
, a kinky dinner-kidnapping theater inspired by Mozart's final opera. It's happening at the Diamond Horseshoe, a legendary old nightspot, and it starts on NYE.
We'll keep the surprises surprise-y, but here's a taste.
It's sorta inspired by
The Magic Flute...
... and involves a very dark debutante ball. And the world's foremost (also: only) French S&M German-wheel performer. And some Tony winners. And a guy who can literally jump to the ceiling.
... and possibly some creative moisturizing on your part.
Just... you'll see.
Cocktails from a mad scientist's lab.

The bar is a literal series of tubes. They're everywhere. There's smoke. There's booze. Your drink travels through a network of beakers and passages all around you. Then into a glass. Which is convenient.
You may be abducted before the meal.

You'll be chatting up a date, and then you'll be gone. Trust us—this is going to go well (read: morally questionably) for you.
Dinner's on spikes.

Short rib from the people behind American Cut and Scarpetta is served in massive cuts on a tray of metal spikes. Your chicken comes in a birdcage. But, you know, fried.
We're your new best friends.

If all this is a little confusing for you, yeah. It should be. Which is why we've secured some VIP tickets for you with
UD Perks
, so you can just experience it for yourself.
We love you, too.