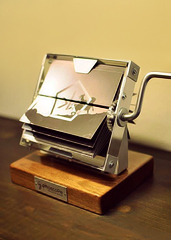 There are two kinds of people in this world.
The kind who click "Like" on funny animated GIFs they see on the Internet.
And the kind who take funny animated GIFs they see on the Internet and send them to a pair of Italian artists who'll turn those funny animated GIFs into one-of-a-kind objets d'art.
Just in case you're the latter, we found this:
Giphoscope
, the world's first analog GIF player, allowing you to give a video loop of your cannonball into Lake Michigan to all your loved ones this year, available online now.
This is essentially a cross between an old-fashioned animation flip-book and a hand-cranked Victrola record player. How it works: individual still frames from GIFs or video clips are created and placed on a spindle. You turn the spindle. The pictures move. Cool. (Especially if you've been in a coma since 1845.)
First, of course, you'll need an appropriate GIF or video clip. Your cutest running dog. Your most graceful swan dive. Your flyest breakdance. Then email it to these geniuses. Aluminum frames, screws and wood are all employed. Photo stills are made. Cranks are attached. Seven to 10 days later, the device is created and mailed back to you.
Just don't crank it backward.