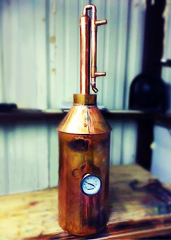 There's an old saying that goes:
"You're about to become a moonshiner in your own garage."
Actually, it's not that old. We just made it up like two seconds ago.
But it should be old.
Iron up your constitution for
Clawhammer Supply
, a webstore that specializes in delivering one thing and one thing only: bits and pieces of copper that come together to eventually make moonshine, online now.
Here's why you're about to appreciate a guy named Kyle Brown: he's using his coppersmithing talents to make moonshine-still parts. And you can use those parts to make a moonshine still. Which will yield moonshine. Which will make you all happy.
So head to the site and choose a one-, five- or 10-gallon kit. After you choose a 10-gallon kit, it'll arrive the following week. That's when you'll put on a flannel onesie, grab a hammer and... start watching all the tutorial videos on the site.
Kyle will explain everything you need to know about assembling the machine-cut parts, copper rivets and fittings until they look like a still. Simply follow his instructions. And before you know it, you'll be naming your own small-batch moonshine.
"Rick" sounds about right.