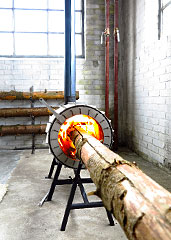 When it gets cold, you can do one of two things:
1) Light a fire in a fireplace.
2) Light a fire by jamming an entire tree into a Dutch stove from the future.
Given the option, always jam the trees.
Get all warm and cozy and semi-aggressive for the
Spruce Stove
, a strangely magnificent upright furnace that heats your home by swallowing whole trees, available now by special request.
A couple Dutch guys are behind this. No surprise there. If anyone can create a manual room-heating device that looks like a giant camera lens on four legs, it's those guys.
The way it works is... well, it's really f**king simple. Find a long log or a small tree and bring it into your house, cabin or weird office. Then light a fire inside the furnace, place the log on the included stand and feed it in as it burns down.
This will keep your place warm. It'll also be way less convenient than having a central heating system. Then again, central heating systems don't require you to cut down trees and drink scotch in flannel overalls while stroking your beard whether you have one or not.
So...