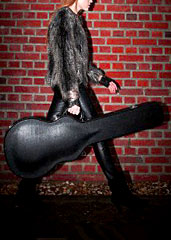 About that top-secret, nameless new rock club now residing in the old Largo spot:
Nobody is supposed to know it exists. And nobody gets inside without an invite. Seriously.
So let's go inside, shall we...
Cut through the whispers about the place we'll just go ahead and call
The Nameless Fairfax Club
—it's now discreetly open by invitation only.
First, a guy outside will confirm your invitation. So you'll... need to work that out beforehand. Then, he'll warn you sternly: no photos inside. You're not joining the NSA, just entering a dark club that resembles a slightly medieval CBGB.
Think prancing white deer on one wall. A bar made of guitar amps, with drinks from a Soho House vet. And a communal table you can carve your name into, covered with fried chicken, maybe, and whatever's seasonal, from a former Lexington Social House chef who isn't into static menus.
Later on, expect an intimate concert, possibly someone fresh from the Hollywood Bowl—one guy behind this place manages bands. Your best view: a circular couch in the middle.
Well, actually, there's a better view from the VIP balcony up a staircase lined with leather belts.
And actually, a
better
one close by—a closet-size room with trippy animal wallpaper we can only assume is reserved for people named Clive.
Not Clive Owen.