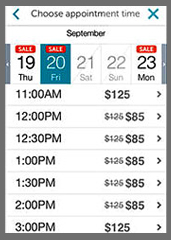 Managing all your engagements is exhausting work.
So what you want: a personal assistant.
But what you should probably get instead: this thing.
Consult a calendar for
MyTime
, a handy iPhone app you'll use to book all your essential (and not-so-essential) appointments and services, available now.
Yes, it's an app you'll use to schedule appointments. Which... is something you'd ordinarily do by actually talking to someone. Which... makes this thing way more convenient. Especially if it's 3am and you're looking to squeeze in a Swedish massage between tomorrow's guitar lesson and jujitsu class. And really, when aren't you...
So before it's time to book your next anything, download the app and put it to work. It's got categories for local dentists, dog walkers, personal trainers and pretty much every other service you can think of. (If you thought of boudoir photography: check.) Just pick from the list of available times and that's that. Your appointment's confirmed.
Then once you show up for your oil change/haircut/whatever else, there's no need to pay. Because the app stores your credit card info and handles that for you.
Okay, so technically you still have to pay.