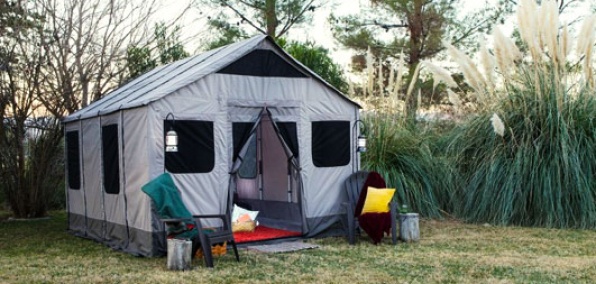 You know the problem with camping...

It's either uncomfortable. Or it's cold. Or it's buggy. Or there's never enough room in your tent to fit a king-size bed.

Someone should really fix camping.

Stretch out and make yourself comfortable for the Safari Tent, a palatial, makeshift living space you'll employ when you're outside your house and don't want to sleep on the ground, available now.

Yep, it's a tent all right. But not the kind you're used to. Well, unless you're used to 120 square feet of durable, waterproof elbow room. Because this thing's big enough to fit you and seven friends. Or you, one friend, a couch, two margarita machines, a fire butler and a regulation-size foosball table.

Right, so you won't exactly be roughing it when you're sleeping alfresco in Oklahoma/hosting your monthly backyard s'mores party. Just find some flat ground. Then jam in those aluminum poles, zip up the rugged Cordura shell, test the water in the hot tub and commence camping.

Hopefully you remembered to pack the hot tub.