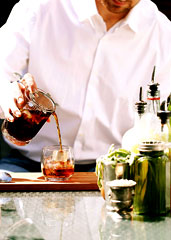 You know this incredible new place for drinks.
Classy vibe. Button-downed barkeeps. Already-legendary
Fernet Egg Creams
.
And it's called... your living room.
Welcome to wherever you are, and open the door for
The Spare Room Off-Site
—a new cocktail catering service that means the Spare Room comes to you (minus the bowling balls), available now.
Basically, this is your new secret weapon for your Halloween party, if your striped zombie-Robin-Thicke suit is too tight for you to shake those egg creams up yourself. Or the easy way to class up your 2,500-person holiday party in December. Or... maybe you've got three friends coming over to catch the game, and you just want things to be nice for football.
Whatever it is, just email the Spare Room. Tell 'em what you're thinking: maybe you want an all-mezcal menu. Or giant bowls of gin-passionfruit punch, perfect for apple bobbing. Whatever.
Then, when the day arrives, a team of Spare Room–trained barkeeps will, too, armed with any necessary Trinidadian rum, damiana or jalapeño tinctures—and crazy silver tools that could either perform delicate surgery or help mix the perfect
Tonic Rickey
.
We're not sure how extensive the training is.