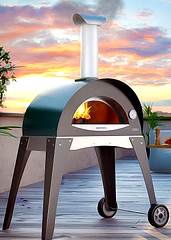 Things you lack right now:
1. A functioning government.
2. A playoff game at Nationals Park.
3. A freshly baked pizza from your own wood-burning oven.
We can remedy one of those right now. No, it's not the government.
Meet the
Alfa Pizza Forno Ciao
, an Italian way of saying "pizza oven," available now.
This is from a foreign country, but it's not a foreign concept to you. You've sat at enough bars at pizza joints to know what you're dealing with—tile inside, chimney up top. In goes wood. Out comes pizza.
Only this one's on wheels and you can set it up almost anywhere. It could have some tailgating applications, sure. But it's 200 pounds, so mostly you'll just keep it in your backyard (or on your balcony... until the cops tell you to move it).
So... you'll invite some friends over. You'll start a fire inside the oven. In about 15 minutes: pizza temperature (almost 600 degrees). Throw some dough in. Top it with venison. Cauliflower. Cap'n Crunch. Whatever.
Oh, and you should probably have a lot of that stuff, because it can accommodate two pies at once, and about 30 pizzas per hour.
We hear this is how Little Caesars got started.