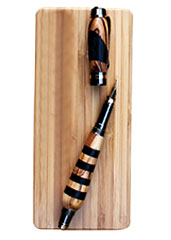 Go get a pen. We have some important information you may want to write down.
We'll wait.
Okay. You're back. Great. Here goes. It's about that pen you're holding. It wasn't made from 50,000-year-old wood.
And... these were:
Allegory Pens
, a bunch of Illinois-made writing utensils carved from some pretty old/exotic wood, available online now.
We bring these to your attention because when you get back to the office on Tuesday, it'll be time to get serious. There'll be contracts to sign. There'll be tapping on conference room tables to do. There'll be apology notes to be handwritten regarding what happened this weekend (two "p"s in whipped cream, by the way).
Also: these pens have a cool backstory. A woodworker from Joliet carved some of them from kauri trees that fell 50,000 years ago in New Zealand. He carved others from 5,000-year-old oak from European bogs. Still others he carved from plain old American cypress. The end result: some really beautiful writing instruments.
So you'll go to the website. You'll peruse the pens. There's a ballpoint (the Troubadour), a fountain (the Dignitary) and some customizable ones.
There's even one you can use on your iPad (the Mogul), made from pickled Douglas fir.
Which sounds oddly delicious.