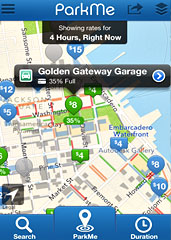 This is about parking.
Specifically, about how doing it in this city is about as pleasurable as eating a bowl of prunes. Or hearing the word "gloop." Or attending a Global Wireless Technology Trends seminar. Or going to a 4 Non Blondes reunion tour. Or false sneeze alarms.
Point is: parking is bad.
And this will make it less bad.
Meet
ParkMe
, a new app that eliminates the terribleness of looking for parking by using its real-time database of live maps to find you the closest open spots, available now for iPhone and Android.
Whether or not you believe in parking karma, this is going to make the four-wheeled portion of your life a lot easier.
It's different than those other ones, too. It's the first of its kind with real-time updates, so it automatically syncs with your phone's GPS and leads you to over 100,000 spaces in lots and garages and 29,000 metered ones.
Good. Now that we've gotten that out of the way, here's what you do...
Download it. Tell it where you're going. Start going there. Keep an eye on the heat map for blue pins (blue = all clear) near your destination. Park. Rejoice.
Or just get out and grab a coffee.