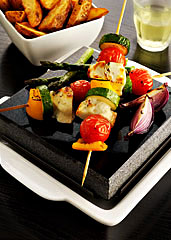 Nice weather we're having out there today.
And yet, it still doesn't get you any closer to cooking skirt steak on a really hot rock.
Which is where the
Black Rock Cooking Stone Grill
comes in, basically a big slab of heat-retaining lava stone upon which to cook meat, available online now.
Say you have a few friends coming over for dinner. On the menu: some kind of surf-and-turf situation. Throw one of these inch-thick slabs in the oven (picture whiskey stones, but for steaks). Get it hot. 450-degrees hot. Take it out, place it on the special metal sheet it comes with and unleash a mighty roar. Maybe a "Yay," if time allows.
Because, well... you're about to cook on a lava rock.
Your scallops and barrel-cut filet will sear slowly before you. It'll be fun. It'll be interactive. Especially if you get a bunch of small ones and place them in front of your dinner party guests. They'll get all happy because they're cooking their own dinner.
Oh, and in the morning, you can pull the same stone from the freezer and put some smoked Alaskan salmon on it for any bagel-and-lox scenarios you may find yourself in.
Probably the eating-them one.