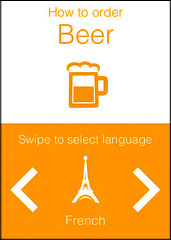 Passport: check.
Toothbrush: check.
Change of clothes: check.
Ability to order beers in Afrikaans should the situation arise...
Check.
Okay, you're ready for vacation.
Break down the most important language barrier with
Pivo
, a handy new iPhone app that'll have you ordering beers in 59 languages, available now.
This is basically a pocket-size translator that you'll employ when traveling. One with a commendable laser focus on beer. And only beer.
So let's say you've just arrived in... wherever. Finland. Malaysia. Albania. (Maybe not Albania.) And an ice-cold pint is your top priority. No problem. Just saunter into the nearest watering hole, pull up this app and scroll to the language you need. The simple interface includes translations for "A beer, please," plus a phonetic version to help you sound a little less like a tourist. So just read what you see in front of you, and there you go: beer.
And should you require a little extra practice, the app also has videos of native speakers ordering beers in a variety of local dialects.
Because sometimes you just like to watch.