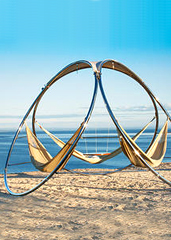 Great things come in threes.
Little pigs. 
Stooges.
Hanson brothers.
Hammocks.
No.
Wait... yes. Hammocks. That last one actually makes sense now.
Because now the
Trinity Hammock
exists, a glorious triumvirate of leisure put on this earth to... okay, it's three hammocks connected together to form one super-hammock, and it's available online now.
For centuries, man has lived under the iron fist of physical law. Or, as it relates to your outdoor napping agenda, one in particular: hammocks don't play well with others. But since physical laws were made to be broken: this thing.
It's three conjoined hammocks held together by a crafty weight-distributing stainless-steel design. (Read: you don't need to find three perfectly positioned trees to set it up. Or any trees, for that matter.) Just add two other people and hammock like the wind. Propose toasts. High-five each other. Set up a table in the middle and play Chutes and Ladders. You know, hammock stuff.
You can even trick it out with different handwoven fabrics and fluffy, quilt-y materials.
But don't, because it's just a damn hammock.