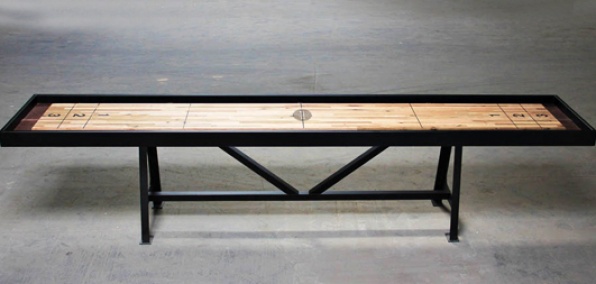 And now, a brief list of things in your house that aren't nearly beautiful enough:

1) Your shuffleboard table.

Right. So it's not technically a list.

And you probably don't even have a shuffleboard table in your house.

But if you did, it should definitely be the District MFG Shuffleboard Table, just a remarkably well-thought-out and despicably handsome leisure device that exists for the sole purpose of allowing you to have one of those, available online now.

You knew this would happen. You knew some design team would come along and make a competition-ready, custom puck runway lined with hand-stitched leather and surfaced with reclaimed oak. You just didn't know it would be the new centerpiece of your living room.

It's built like a tank, too. Which means maybe you could lay out a spread of sushi on it for your next dinner party. Or turn it into a catwalk for your next whatever party. You could even put some sand on it and slide little pucks as close to the other end as possible.

Because that's what it's for.