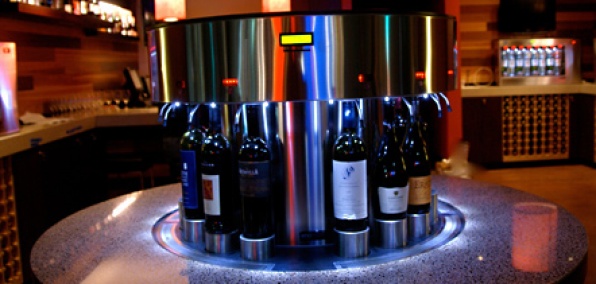 You're not anti-technology, but sometimes it doesn't seem useful for what's really important—drinking.

Until now, that is. A gleaming little oceanside wine bar called Pourtal opens tomorrow to take the oenophile in you into the future.

Stepping in from the salty air, you'll be greeted by a small space lined with bottles in electronic dispensers—brandish your punch card (preloaded with money) and tell the machine what to pour you. You can proceed according to your whims…or according to the tasting cards, which offer you a museumlike guided tour (without the nerdy headphones) based on revolving themes: "Pinot Envy," maybe, or "Three's Company," a leisurely tour through bottles of tri-grape blends. (And if you need to fuel up along the way, there are a handful of tasty crostini options, and mozzarella from Andrew's Cheese Shop.)

Sure, you might think you've seen this kind of thing before—but at Pourtal your card will be personalized, so your tastings and favorites will be accessible online when you're at the store and really need that unforgettable Syrah you've nonetheless forgotten.

Another innovation: happy hour. The prices stay the same (stay with us here), but all profits during that time will go to a different nonprofit organization each month—first up in June is Heal the Bay.

As if your wine-drinking weren't already noble enough.