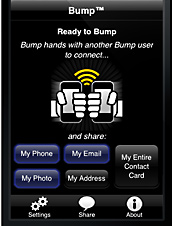 You heard it here first: the business card is dead.
No more cardstock debates, no more stainless steel cases, no more oversized and undersized cards…no more cards with rounded corners. They're all gone.
Here to replace them:
Bump for iPhone
, a new app that makes trading info as simple as a fist bump, available now.
Started by a couple of Chicago-based app developers (and U of C MBA students), Bump is one of the most uncomplicated apps we've ever seen—and also one of the most useful. Say you're meeting a new client. Instead of fumbling for business cards like a couple of office drones, you'll pull out your iPhones, open the Bump app, select the info you'd like to share…and bump fists. (You both need to be holding your iPhones when you bump…but you knew that.) In just seconds, the other person's contact info will be saved directly to your address book. Done and done.
Of course, it's outside of work where the app's full brilliance can be unleashed. Next time you're ready to obtain the phone number of a smartened-up lass in a noisy bar, instead of awkwardly yelling digits at each other (and risking poor ear-hand coordination), simply whip out your phones and tap each other's knuckles.
Consider it safe text.