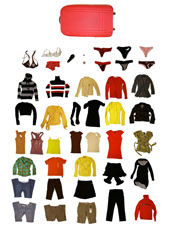 Throughout your life, you've lost things when you travel. Your suitcases. Your sunglasses. Your virginity.
First, some bad news: you ain't getting those last two back. Now, the good news:
isthisyourluggage.com
is here to help you with the first.
You know that pricey Globe-Trotter hardshell (and the rolled-up clothes inside) you lost last year after connecting at PDX? They didn't disappear into the ether—instead, your airline likely found the items and auctioned them off when you couldn't be found. (Something tells us the airlines don't try too hard.) That's where the website steps in—its anonymous proprietor ("Lunalaboo") buys those lost suitcases, and then displays them in hopes of connecting them with their rightful owner. Just drop Luna a line, and negotiate a price for their return. (Lunalaboo: Somali pirate?)
Even staycationers, however, can appreciate one of the site's more voyeuristic features: it posts the contents of the found bags, too. In other words, everything from your dirty skivvies to your toothbrush to your "Obama Is My Homeboy" T-shirt is on display for the whole world to see.
Sounds like a small price to pay to get that T-shirt back.