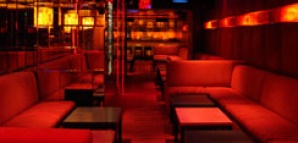 Ever since the stone age buffalo-on-a-spear, man's desire for food on a stick has been deep and primal.

Of course, leave it to modern society to take the rough edges off of your most manly urges.

Take Lollipop, the slick new red mini-box of a cocktail lounge on the UES from the owners of Geisha and Serafina. Along with plentiful cocktails, it serves up lollipop-style Viet-Thai food on sticks, like Thai Curry Chicken, Lobster Coconut and even Kobe Beef (about time someone put that on a stick). Your girl will love the spot's amped-up sexiness, courtesy of the Rockwell Group, from the red crocodile leather banquettes to black vinyl reflective ceilings and acrylic walls in all shades of pink (this place is called Lollipop, after all). You may enjoy the fact that the place feels just a pole shy of a luxe underground strip club (ironically the only stick missing).

So let her enjoy her cute little balls of food on sticks. At least you get to watch her eat them.