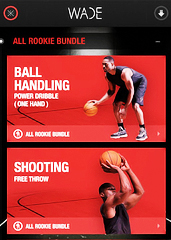 Now that you've got all of that parading out of your system...
It's time to get to work.
Because you've got two days until the draft.
And you're going to need to master some things.
Like... the dribble.
Here with a plan:
Dwyane Wade Driven
, a new training app from the Heat's storied shooting guard, available now for iPhone.
What sets this apart from every other fitness app: Dwyane Wade. The name might ring a bell. Anyway, he's ready to share some of his hard-earned knowledge so you can train and compete on his level. Or, you know, just get through a pickup game.
So first you'll download the app. It's split up into three training phases. First up: the rookie bundle. Here you'll learn the basic moves and drills for shooting and ball handling. If you're not sure how to do one of the exercises, fear not: D-Wade will walk you through the whole thing via video. Sadly, sans Heat dancers.
From there, it's the all-star and MVP bundles. They've got exercises developed by Wade's personal trainer that'll help you master advanced moves like dribble penetration and defense.
When you've wrapped up your training session, you can log your progress and share it on social media.
It's @CoachSpo. You're welcome.