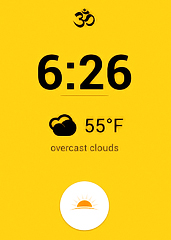 Roosters get a bad rap.
Because of the noise.
It's because of all the noise they make in the morning.
But really, they're just doing their job.
Correction:
were
doing their job. They're all fired now.
Because now you have this...
Warmly
: a new alarm clock app that wakes you up to the soothing sounds of sizzling bacon, brewing coffee or barking dogs if you happen to be into barking dogs, available now for Android.
This is basically the anti-alarm-clock. Sent to this earth for the sole purpose of coaxing you from your slumber with a barrage of positive morning-time associations.
Like the sounds of someone making sunny-side-up eggs. Or percolating coffee. Or chanting monks. Or, yes, barking dogs. You've got nine options in total. Just pick one, set the time and go to bed. It's an alarm. You know how those work.
Right. But it's also... different from an alarm. Stronger. Better. Science-ier. You see, it knows what the weather is like outside every morning. So if it's sunny, you'll automatically hear birds chirping before your preselected sound starts to play. If it's cloudy, you'll hear rain and thunder.
And if it's snowing, you're... probably not in San Francisco.